Join us for a meet and greet with Molly Hashimoto, renowned naturalist and water color artist. She has a new book, Colors of the West and will be sharing a bit about how this book came to be. Arrive early to sample sketching materials and visit with the artist. Stay for a short presentation with time after for additional questions.
Recommended for children 8 and up.
Learn with acclaimed Molly Hashimoto: interpret colorful landscapes through pen and brush. Hashimoto's recent stunning watercolor collection features iconic parks, refuges and monuments, birds and mammals, trees and flowers.
Molly says: My book is an appreciation of the beauty of the natural world that we are so fortunate to enjoy in the American west. This presentation is not just for artists! It's for travelers, hikers, birders and animal-lovers! Many students, family and friends live in far-flung parts of the country, and the world, so I offer this in hopes of reaching you, too.
Molly Hashimoto regularly teaches art classes for the North Cascade Institute, Sitka Center for Art & Ecology on the Oregon coast and the Yellowstone Institute. Her philosophy as a teacher focuses on hands-on art that begins in the outdoors and connects students to nature and cultural history.
Location:
Wenatchee River Institute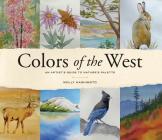 $24.95
ISBN: 9781680510973
Availability: Usually Ships in 1-5 Days
Published: Mountaineers Books - September 1st, 2017
---