Molly Hashimoto Book Signing
Start:
05/17/2019 -

3:00pm

to

4:00pm
Molly Hashimoto, award-winning nature artist and art teacher, returns with a new collection of breathtaking watercolors: Birds of the West.
Meet Molly and discuss birds and art techniques at her free booksigning -- which follows her Birdfest art class (more info on the class at Leavenworth Spring BirdFest ).
Birds of the West is a unique gift book celebrating more than 80 iconic Western birds and exploring habitats from suburban backyards to alpine heights, shorelines, and more.
Birds accompany us in our daily lives with their songs, flashes of bright color, and energetic activity. Even people who don't consider themselves birders notice them; from urban wetlands to wilderness trails, we follow the sound of a distant twitter or song.
Award-winning artist Molly Hashimoto captures birds through different media, from quick sketches with pen and wash to more carefully planned block prints. Each medium has a unique way of revealing different avian qualities--elegant lines or imposing silhouettes, a delicate bill or brilliant plumage. In Birds of the West, Molly shares this range of artwork as a way to encourage readers, whether artists or not, to observe more closely the feathered friends around us.
Through Molly's art and words, she explores specific Western habitats, providing the natural histories of birds typically found in each, as well as intimate personal encounters and inspiring passages from others. And she teaches painting, drawing, and printmaking methods throughout the book with technique sidebars designed for all levels of experience.
Location:
Wenatchee River Institute

$22.95
ISBN: 9781680511505
Availability: On Our Shelves Now
Published: Skipstone Press - April 9th, 2019
---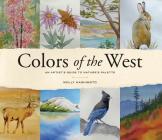 $24.95
ISBN: 9781680510973
Availability: On Our Shelves Now
Published: Mountaineers Books - August 1st, 2017
---